This page was created programmatically, to read the article in its original location you can go to the link bellow:
https://www.si.com/showcase/tech/samsung-galaxy-z-fold-4-review
and if you want to remove this article from our site please contact us
The Arena Media Brands, LLC and its partners may receive compensation for links to products and services on this website. The Sports Illustrated editorial team is not involved in the creation of this content.
In the world of smartphones, the Galaxy Z Fold 4 aims to punch above the rest. It combines a phone and tablet into one device with a bevy of other premium features. Things like cameras that capture clear day or night, a class-leading processor and software customizations that let you make the most of the unique form-factor.
And now in its fourth generation, Samsung's gotten the form squared away — at least for now — as a thick 6.2-inch smartphone that opens like a book into a 7.6-inch tablet. So roughly the size of a standard smartphone into that of a Kindle or iPad Mini. You can multitask between upwards of four apps, game on a super vibrant screen, and maybe even reach for some other devices less.
But at $1,799 it also punches above the rest of the smartphone lineup with a premium price. That keeps this from being the device for everyone, but after some lengthy testing, the Galaxy Z Fold 4 is exceptional at productivity and consumption.
A Standard Smartphone on the Front
Let's start with what you see first — when closed, the Galaxy Z Fold 4 stands as a thick 6.2-inch smartphone. In fact, it's about two phones — say, iPhone 13 Pro or Galaxy S22 — stacked on each other which adds some heft. Samsung is opting for the right materials here though with an aluminum and glass build all around.
And front and center is a 6.2-inch AMOLED display with thin bezels (aka borders) all around that delivers a mostly all screen front. Say, for the pinhole notch center at the top which contains a selfie cam fit for BeReals, Snapchats, TikTok dances and video calls. The 10-megapixel lens can also stretch a bit wider to handle group selfies.
Unlike the previous Galaxy Z Folds, Samsung's increased the width of the screen. Previously, the front screen wasn't really usable for everything you'd expect on a smartphone. It was cramped to type on with a keyboard smaller than the iPhone SE, webpages were skinny and you had to zoom in to read out details.
But the screen is larger here and set in a 23:9 aspect ratio, which leads to more usable space and it's roughly the same width as the smallest iPhone, the iPhone 13 Mini. In my week of testing, I've been able to type and really use the front screen just like any other smartphone. And that's kind of the cherry on top with the Z Fold 4.
In that, it's a 2-in-1 with a unique proposition, but you also don't have to open it fully to use it for more basic things. I can read through my inbox, respond to a Slack, scroll socials, read a story and even watch content on the front. It's a Dynamic AMOLED that delivers vibrant colors and quite strong contrast points, all aiding in immersion and enjoyment when using it. However, this screen also gets really bright and is easily able to stand up against a bright, sunny day with outdoor use and sharp fluorescent lights with indoor use.
It's also buttery smooth with an adaptive refresh rate that goes up to 120Hz. And this tech refers to how many times in a second the screen can refresh itself, and while the S22 family also sports this, the iPhone 13 Mini and iPhone 13 are limited to 60Hz. It's needed here, especially for the price.
A Main Screen for Immersive Streaming, Gaming and Multitasking
Unfolding the Galaxy Z Fold 4 is quite simple and really like a book. Now in its fourth generation of a phone-to-tablet foldable and by using the proprietary hideaway hinge, Samsung's Z Fold 4 opens with enough smoothness and restraint to increase confidence. Even neater, you can stop unfolding or folding at any point and have it stick in that position. Handy if you want to use it as a mini laptop — any netbook fans out there? — or prop up the front "Cover Screen" to take in a video or hop on a call.
And the main screen is a full 7.6-inches, nearly bezel-less, and one of the most immersive — if not most immersive — screens I've used on a mobile phone, well tablet, no foldable. Colors are punchy, vibrant with a screen that gets plenty bright. And the material being used is Samsung's Ultra Thin Glass which mixes plastic and bits of glass together. It will feel malleable when fully opened as well.
You will of course see a crease right in the middle, which is unavoidable with how far the technology has come. And when typing or using an app that spans the entire front screen, you'll find your finger running over it. But much like a notch on a phone, tablet, or laptop, you'll quickly learn to live with this crease.
And streaming content — be it the first episode of "She Hulk" on Disney+ or "Jackass Forever" on Paramount+ — looks absolutely dynamite. To a degree it's the equivalent of having a big screen that is available whenever you'd like it. It's also a screen that offers a super smooth refresh rate of up to 120Hz, meaning that more action flicks or fast moving content will look great here. It's a nice boon for sports fans who might take in a game live, and then split the screen to see stats or maybe the reaction from social media.
Similarly, you can use Xbox Game Pass to stream in some popular gaming titles and connect an Xbox Controller via Bluetooth for a console-like experience. My testing on both Wi-Fi and 5G on Verizon using C-Band and Sub-6 primarily offered a smooth experience. Of course, you can play games locally downloaded from the Play Store and I had a similarly great experience with Asphalt 8 and Call of Duty: Mobile.
The real novel experience here is multitasking though. And generation over generation — Z Fold 3 to Z Fold 4 — Samsung's made the experience a whole lot more intuitive. The Z Fold 4 is running Android 12L, which is designed for larger screen devices, with a custom Samsung One UX placed on top. And the real change here is a taskbar on the bottom, which lets you quickly switch from using one app to another. But here's the kicker, you can also drag an app on the bottom to the main screen, and place it side-by-side — left, right, top, or bottom — to easily create a split screen experience. 
This way you can have Gmail and Slack open, a web page and a PDF, or really any two apps. But the Z Fold 4 doesn't stop there and works somewhat like a desktop, as you can use well over four apps. Including one on the left, with two on the right and a floating window that can be run on top of them.
It's all really intuitive and this makes the Z Fold 4 the best way to multitask on a mobile phone that also doubles as a tablet. If you want one device that can stop you from running to grab a laptop or even a separate table, Samsung's flagship foldable could likely tackle that. In over a week of testing, I didn't encounter many slowdowns and that's likely thanks to the processor along with customizations.
The Galaxy Z Fold 4 is powered by Qualcomm's Snapdragon 8+ Gen 1 with a healthy 12GB of RAM. Remember, the M1 or M2 MacBook Air uses a custom chip and starts with 8GB of RAM. So this is plentiful to keep an Android foldable grooving.
The last bit I'll call out here is that Samsung did say that Android 12L will eventually arrive on the Z Fold 3, there is no exact time frame though. And since performance is fairly inline between Fold 3 and Fold 4, there isn't necessarily a reason for those with the previous generation to run out and grab this. Though, Samsung has some wild preorder deals that run through August 26.
Just How Durable is the Galaxy Z Fold 
The Galaxy Z Fold 4 feels stronger and more substantial than the previous generations in daily use. For glass, the final layer here is Corning Gorilla Glass Victus, and Samsung uses a custom armor aluminum that is stronger and more roadworthy than other types.
And like the Z Fold 3 last year, the Galaxy Z Fold 4 features an IPX8 Water Resistance rating — meaning it can handle submission in up to a meter of water for as long as 30 minutes. I wouldn't recommend purposefully dunking this phone, though. I didn't do that, but I used it in some light rain and didn't experience any issues.
The hinge, which enables the folding of the Galaxy Z Fold 4, is still a hideaway variant and features a series of brushes inside to reduce the chance of debris and micro particles entering. I didn't encounter any issues with this during my testing. I've personally had a Z Fold 3 with a similar hideaway hinge and haven't had any problems after close to a year. All this to say, though, the Galaxy Z Fold 4 is not rated for any level of dust resistance.
The Cover Screen, while being Corning Gorilla Glass Victus, doesn't come with a screen protector placed on top anymore. Previously, on the Z Fold 3 and Z Fold 2, Samsung pre-installed one. 
However, and this is a big one, the internal Main Screen has a screen protector installed and is not to be removed. Doing so can cause serious problems, and Samsung warns on-screen during setup not to remove this.
All-Day Battery for A Phone
While the Galaxy Z Fold 4 does fold open into a tablet-sized device from a smartphone style when closed, it still only has a 4,400mAh battery inside which is closer to that of a phone than a larger device. And the good news is that in my testing, when using both displays — the Cover and Main screens — you can expect all-day battery life. It will not stretch into a day and half territory, and you'll likely find yourself charging at night.
Samsung does include a USB-C to USB-C cable in the box, but there is no wall plug. You can standard charge this with a relatively small wall plug, but to fast charge the Z Fold 4 you'll need to plug that cable — or any other you have — into at least a 25-watt power brick. I'd suggest looking at one from Anker. And the Z Fold 4 can also be placed on a Qi-enabled wireless charger for up to 15-watt wireless charging.
PowerShare is also built-in here which allows you to charge another device like Earbuds or even any other Qi-enabled device — yes, like an iPhone — with the back of the Z Fold 4. Essentially reversing the wireless charging to use the Fold's battery to charge another device. And that's still cool and something that Apple doesn't offer yet.
Versatile Cameras to Capture Near and Far
The Galaxy Z Fold 4 has a total of five cameras — two in each display and three on the back in a camera bump.
10-megapixel selfie camera: This lens is located in a pinhole centered at the top of the Cover Screen. As I noted above, it's excellent for taking selfies, recording video for social media, and for hopping on video calls.
4-megapixel under-display-camera: This lens is hard to see at times and lives in the main screen — aka the 7.6-inch one. It's built into the screen and pixels actually run above so this way there isn't a cutout interrupting your content. It looks neat and as the second-generation content looks more fluid above it, but it doesn't capture the best images.
50-megapixel wide camera: This is the primary lens on the Galaxy Z Fold 4 and is an excellent shooter for both daytime and low-light photos. Thanks to a larger sensor and higher number of megapixels, it can take in more of a scene, make the right adjustments and deliver an accurate, vibrant image. As Samsung cameras tend to, the end results are generally a bit warmer than that of an iPhone.
12-megapixel ultra wide camera: This lens adds a lot more versatility to what you can capture with the Z Fold 4. It's great for capturing a lot more in a scene, like a skyline, a large family photo, and also for putting a fun spin on a classic shot.
10-megapixel telephoto camera: This is likely the biggest improvement year over year, as it lets you zoom in optically up to 3x and the Galaxy Z Fold now — finally — supports Space Zoom up to 30x. This combines the optical lens with digital and AI improvements to provide clarity with these super zoom shots.
Below is a full gallery of some test images I've captured using all these lenses on the Galaxy Z Fold 4. But the other half of the story with the camera is Samsung's customizations and the Snapdragon 8+ Gen 1 power here.
For starters, images are captured and processed quicker year over year, allowing you to take photos or record video quicker. Portrait Mode shots are improved thanks to the software being better trained at detecting background and foreground.
All the photography and videography improvements introduced by the Galaxy S22 family are in full force here.
Samsung Galaxy Z Fold 4 Testing Images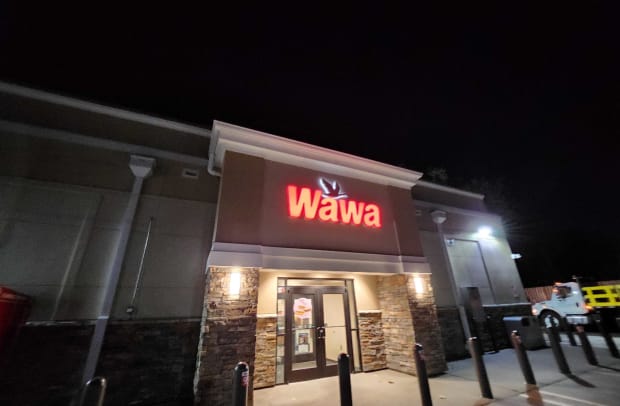 Bottom Line
There is something to be said for a 2-in-1 smartphone — the Z Fold 4 effectively, to a very high-degree, pairs phone and tablet in one device. And now four generations in, they've really made a case and executed on it for what might be the best multitasking experience on a smartphone.
Yes, you can split screen on a Galaxy S22 Ultra, but it's cramped and the Z Fold 4 excels in this area. Not to mention having a 7.6-inch screen that can fit in your pocket with a vivid result is pretty darn cool. It's also worth mentioning, you can't do any split-screen multitasking on the iPhone.
The Z Fold 4 offers plenty of power, two great displays, and five cameras. You really have the ability to do a whole lot with it, and it's best for a user who wants a best classic experience in a form factor that can evolve. You'll just need to pay a premium for that at $1,799.
Preorders are open now for the Galaxy Z Fold 4 and it will begin arriving to customers on August 26, 2022. Currently, you can save up to $1,000 off the MSRP with an eligible device trade-in. Plus with all preorders Samsung will double your memory, toss in a free case and provide a $100 credit for use on a future purchase.
Samsung Galaxy Z Fold 4 Tech Specifications
| | |
| --- | --- |
| | Samsung Galaxy Z Fold 4 |
| Displays | 6.2-inch HD+ Dynamic AMOLED 2X Infinity-O Display at 120Hz refresh rate (Cover Screen); 7.6" QXGA+ Dynamic AMOLED 2X Infinity Flex Display at 120Hz refresh rate (Main Screen) |
| Processor | Qualcomm Snapdragon 8+ Gen 1 with 12GB of RAM |
| Cameras | 4-megapixel under-display camera (main screen), 10-megapixel camera (selfie); 50-megapixel wide, 12-megapixel ultra wide, and 10-megapixel telephoto (rear) |
| Battery | 4,400mAh |
| Connectivity | 5G: Sub-6, mmWave, and C-Band. Bluetooth and Wi-Fi 6. |
| Storage | 256GB, 512GB, or 1TB |
| Colors | Beige, Graygreen, or Phantom Black |
| Price | $1,799.99 (starting |
Prices are accurate and items in stock at time of publishing.
This page was created programmatically, to read the article in its original location you can go to the link bellow:
https://www.si.com/showcase/tech/samsung-galaxy-z-fold-4-review
and if you want to remove this article from our site please contact us
Jacob Krol