This page was created programmatically, to read the article in its original location you can go to the link bellow:
https://www.space.com/astronauts-moon-landing-artemis-3-candidate-sites
and if you want to remove this article from our site please contact us
We now know where on the moon NASA astronauts will set foot after more than 50 years' absence.
The agency announced 13 potential landing regions for its Artemis 3 mission during a news conference held on Friday (Aug. 19). All the candidates are clustered near the south pole of the moon, an area of key scientific and exploration interest alike.
"Selecting these regions means we are one giant leap closer to returning humans to the moon for the first time since Apollo," Mark Kirasich, deputy associate administrator for the Artemis Campaign Development Division at NASA, said in a statement. "When we do, it will be unlike any mission that's come before as astronauts venture into dark areas previously unexplored by humans and lay the groundwork for future long-term stays."
Related: How NASA's Artemis moon landing with astronauts works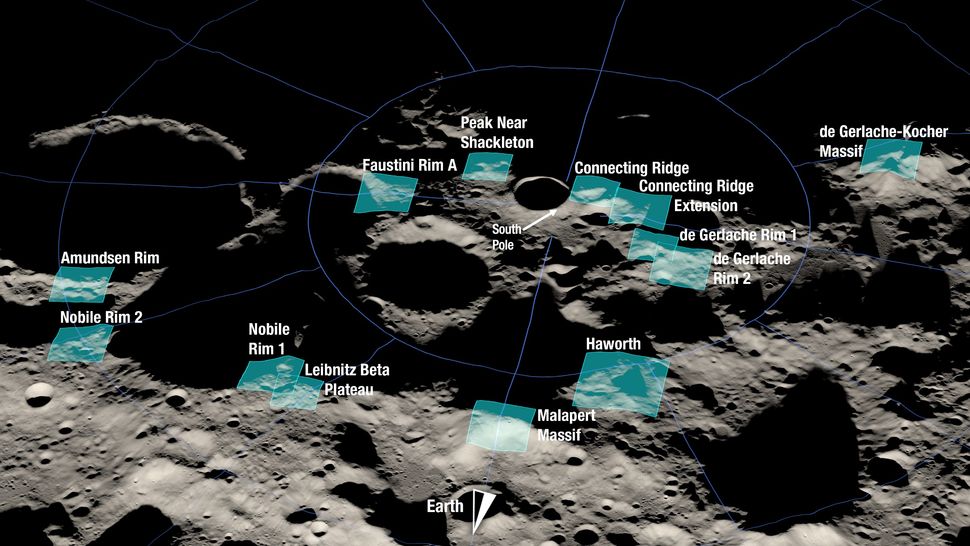 The selected regions are: Faustini Rim A, Peak Near Shackleton, Connecting Ridge, Connecting Ridge Extension, two regions on the rim of de Gerlache Crater, de Gerlache-Kocher Massif, Haworth, Malapert Massif, Leibnitz Beta Plateau, two regions on the rim of Nobile Crater and Amundsen Rim.
To make those decisions, NASA considered factors including how easily a team of astronauts can communicate with Earth from the site, the local lighting conditions and the terrain in order to ensure a safe landing for the crew, which would travel from the Orion capsule in lunar orbit to the surface via a SpaceX Starship vehicle.
All of these sites are within six degrees of latitude of the south pole of the moon. The south pole is tantalizing because orbital observations show that frozen water is locked beneath the lunar surface in the stark cold of what scientists refer to as permanently shadowed regions. 
Scientists hope that studying water and other "volatile" compounds that easily evaporate away will teach them about the moon's history and relationship with Earth. "Several of the proposed sites within the regions are located among some of the oldest parts of the moon, and together with the permanently shadowed regions, provide the opportunity to learn about the history of the moon through previously unstudied lunar materials," Sarah Noble, Artemis lunar science lead for NASA's Planetary Science Division, said in the statement.
Meanwhile, the exploration-minded are interested in the ice because they hope it can support future humans on the moon or be made into rocket fuel.
But just how much ice lingers under the south pole's surface, its precise location and how contaminated it may be by other compounds remains to be seen.
NASA still has a lot of work to do before we'll know precisely where astronauts may step out of their spacecraft. The 13 regions announced today are just that, regions. Next, the agency must evaluate specific landing sites within each region before selecting a final destination.
NASA has said that it will work with "the broader science and engineering communities" as well as personnel at SpaceX to make the selection. (The agency also noted that it might add more regions for consideration.)
A final decision on where Artemis 3 touches down won't be available until NASA sets a launch date for the flight, which is targeting launch in 2025.
Today's announcement comes just over a week before the targeted launch of Artemis 1, an uncrewed test flight for NASA's lunar exploration program. That mission's rocket stack is now on the launch pad at NASA's Kennedy Space Center in Florida counting down to liftoff on Aug. 29.
Artemis 1 is meant to test the two key systems the moon exploration program will rely on: the Space Launch System (SLS) megarocket and the Orion crew capsule. If all goes well, NASA will send astronauts to lunar orbit on Artemis 2, targeting launch in 2024, before the new moon landing.
Email Meghan Bartels at [email protected] or follow her on Twitter @meghanbartels. Follow us on Twitter @Spacedotcom and on Facebook. 
This page was created programmatically, to read the article in its original location you can go to the link bellow:
https://www.space.com/astronauts-moon-landing-artemis-3-candidate-sites
and if you want to remove this article from our site please contact us
Meghan Bartels