This page was created programmatically, to read the article in its original location you can go to the link bellow:
https://calgaryherald.com/news/local-news/calgary-er-doctors-photography-book-captures-covid-19-in-city-hospitals
and if you want to remove this article from our site please contact us
In November 2020, Dr. Heather Patterson walked into the Foothills hospital wearing a camera instead of a stethoscope around her neck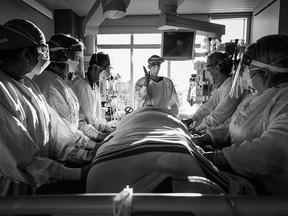 Article content
Dr. Heather Patterson was burned out even before the COVID-19 pandemic hit.
Article content
The Calgary emergency room physician had been practising as a staff physician for 10 years in January 2020, struck by exhaustion from the mentally taxing work alongside raising children on a shift-work schedule.
Article content
That burnout sparked the idea for a photography project within the emergency department, as a way of exploring and reframing why she pursued medicine in the first place. She got Alberta Health Services approval for the project and, in November 2020, walked into the Foothills Hospital wearing a camera instead of a stethoscope around her neck.
By that time the pandemic was well underway in Alberta, and the project's scope expanded to capture the virus's broad effects on Calgary's health-care system.
Article content
"It was really to capture why we all kept showing up for this difficult job despite the challenges we were facing," Patterson said.
"People need to reconnect and be reminded of how they look, what we see, the importance of the work that we do . . . As a health-care provider, I hope it gives us who work within the hospital system an opportunity to reflect back on our experiences. I think that's an important part of processing what we've been through."
Patterson's new book, Shadows and Light: A physician's lens on COVID, compiles those images alongside her personal story during the pandemic. It also includes the stories of patients and front-line workers captured in the shots.
The photos and stories were collected over the course of 18 months, across several waves of the pandemic. They serve as a rare historic document of the human effect of COVID-19 in Calgary hospitals, as patients and front-line workers alike confronted a deeply uncertain future.
Article content
Patterson said the weight of responsibility for the project quickly became clear.
"It's not photographs from the outside looking in. It's photographs from the inside, truly experiencing what my world looks like, and what my colleagues and friends and the people that we care for were experiencing," Patterson said.
That meant recognizing the differences between her roles as a photographer — carried on outside of work hours and never involving her own patients — and as a physician.
Carrying a camera gave a new lens to a familiar environment, forming deeper emotional connections to subjects than is typical for health-care workers.
"I had to learn to connect with people in that setting where normally I would have an emotional detachment, so it was difficult," Patterson said.
Article content
"There were people who I met who survived, and I celebrated with them and their families, and there were people who didn't survive, and I mourned alongside their families as well."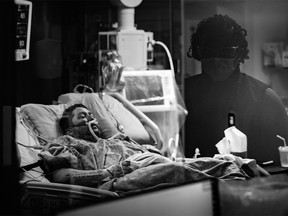 The book includes photos and narratives of patients with COVID-19, including as their family sits virtually at their bedside via video call. Doctors and nurses discuss moral injury, the psychological distress suffered by many health-care workers during the extended trauma of the pandemic.
It also captures other key moments of the pandemic. Those range from the joyful, such as the massive immunization effort at the Telus Convention Centre, to frustrating scenes, such as anti-vaccine protesters gathering outside hospitals.
Patterson said she hopes Calgarians who see her photos can reflect on these past two years, even as society increasingly moves on from the pandemic.
"It's a respectful and authentic story about the tragedy we experienced and the importance of maintaining connection, the importance of having empathy for those who experienced COVID first-hand," she said.
Twitter: @jasonfherring
This page was created programmatically, to read the article in its original location you can go to the link bellow:
https://calgaryherald.com/news/local-news/calgary-er-doctors-photography-book-captures-covid-19-in-city-hospitals
and if you want to remove this article from our site please contact us