This page was created programmatically, to read the article in its original location you can go to the link bellow:
https://www.rte.ie/news/regional/2022/0924/1325257-liffey-swim-dublin/
and if you want to remove this article from our site please contact us
Almost 500 people have taken part in the annual Liffey Swim in Dublin.
Competitors swam the 2.2km route down-river through the city centre from the Rory O'More Bridge near the Guinness Brewery to Custom House Quay.
It was the 102nd year of the event, during which swimmers passed under 11 bridges including the Ha'penny and O'Connell bridges.
The women's race was won by Melissa Corbally from the NAC Masters Swimming Club in Dublin, in a time of 47 minutes and 51 seconds.
"It was a lifetime honour to actually be lucky enough to have won this race," she said.
Ms Corbally said she had overcome a lot of adversities in her life recently so "it's a double honour".
She said she had not expected to win, which she described as "a very big surprise."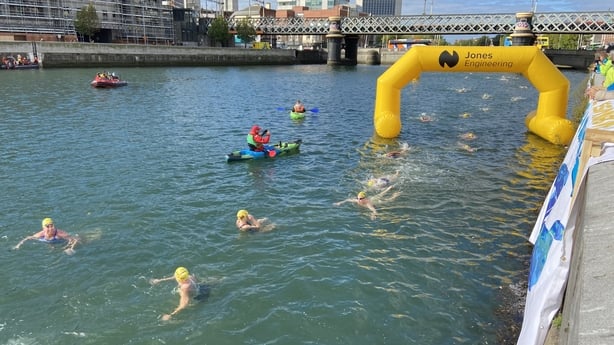 Ken Dent from the Dublin Swimming Club, who led from the outset, took the honours in the men's event in a time of 38 minutes.
He described it as an amazing achievement, and he said winning a race like the Liffey Swim "takes a lot of effort, hard work and training"
"I just got the lead and I kept going all the time, I didn't stop," he added.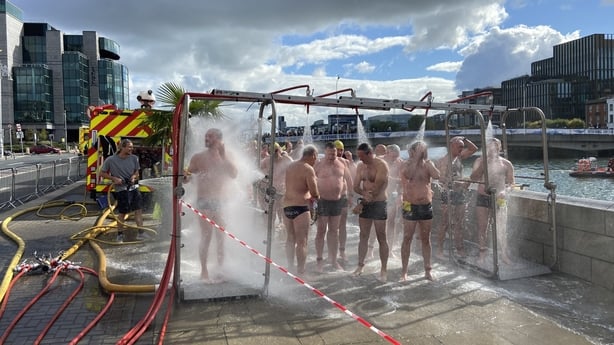 He said he was his seventh time to compete in the race, in which he "came last loads of times".
In total, around 194 women and 298 men took the plunge into the Liffey.
The race was handicapped, with the slowest swimmers starting first and the fastest taking to the water last.
While the women swam against the tide, it had turned by the time the men's event began meaning it was a fast race.
The entrants had completed a series of qualifying open-sea races organised by Leinster Open Sea, during the summer months.
Dublin Fire Brigade's decontamination unit was on hand to provide assistance and showers to competitors after the race, with the famous 'al-fresco' showers.
The swim, which was first held in 1920, returned to its traditional route this year, after being cancelled in 2020 due to Covid-19 and re-routed last year up-river from the 3Arena to the Custom House.
Well-wishers and family and friends of the swimmers lined much of the route and the city's bridges in a show of support.
This page was created programmatically, to read the article in its original location you can go to the link bellow:
https://www.rte.ie/news/regional/2022/0924/1325257-liffey-swim-dublin/
and if you want to remove this article from our site please contact us