This page was created programmatically, to read the article in its original location you can go to the link bellow:
https://foodsecurity.missouri.edu/food-systems-network/
and if you want to remove this article from our site please contact us
MU Extension and Interdisciplinary Center for Food Security partnership will make it easier to access information about local and regional food systems and food security.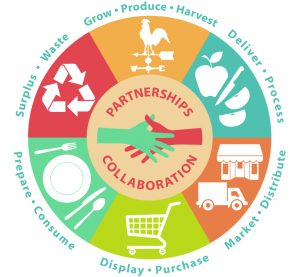 The University of Missouri Extension Food Systems Network coordinates and responds to requests from local and regional food system stakeholders, including those working on food access and food security issues. The goals of the network include:
Create a more informed, connected, and well-resourced food system stakeholder community.
Strengthen the resiliency and economic impact of Missouri's local and regional food system.
Improve food access and enhance food security for all Missourians.
The network focuses on local and regional food systems topics that require a broad approach. Topics may include farmers markets, food coalitions, local food rules and regulations, anti-hunger efforts, and others.
The network brings together existing MU Extension and Interdisciplinary Center for Food Security strengths. These include on-the-ground relationships with community partners, a focus on collaboration and partnerships, and applied research. The Food Systems Network enhances existing networks and working relationships outside MU and MU Extension. Ultimately, the network hopes to expand to include those on other UM System campuses, at Lincoln University, and others in government, industry, and the non-profit sector.
Contact us to reach a Specialist in the Food Systems Network or to join the email listserv.
For information about MU Extension food systems resources, click HERE.
This page was created programmatically, to read the article in its original location you can go to the link bellow:
https://foodsecurity.missouri.edu/food-systems-network/
and if you want to remove this article from our site please contact us